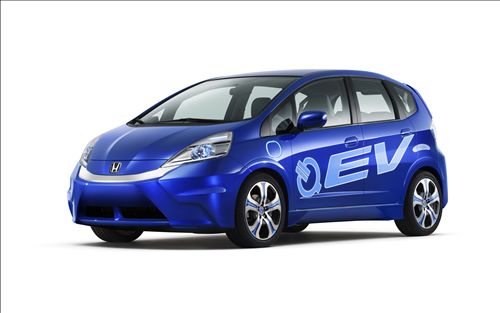 With hybrid models becoming more of a mainstream product for consumers these days, automakers are now turning their attention on the next 'green' frontier, all-electric cars. At the LA Auto Show, Honda lifted the covers off the all-new Fit EV Concept electric subcompact.
And mind you, this is not your typical motor-show crowd gatherer as according to the Japanese automaker, the Fit EV Concept "hints strongly" at the direction and styling for the upcoming production Fit EV all-electric vehicle, which will be introduced to the U.S. and Japan in 2012.
Based on the current Fit [Jazz in Europe and other markets], the EV production model will be powered by a lithium-ion battery and coaxial electric motor. The battery can be recharged in less than 12 hours when using a conventional 120-volt outlet, and less than six hours when using a 240-volt outlet.
Honda says the Fit EV will have a top speed of 90 mph [145 km/h] and achieve an estimated 100-mile [160km] driving range per charge using the US EPA LA4 city cycle or 70 miles [112 km] when applying EPA's adjustment factor.
The Fit EV will make use of a 3-mode electric drive system, adapted from the 2011 Honda CR-Z sport hybrid. The company claims that, in Econ mode, driving range can increase by as much as 17 percent, compared to driving in Normal mode, and up to 25 percent compared to driving in Sport mode. In Sport mode, Honda says that the electric motor generates performance similar to a vehicle equipped with a 2.0-liter gasoline engine.
Aside from the electric drivetrain, the LA Show car features some distinctive styling features inside and out such as the LED headlights, a chrome front fascia, aerodynamic bumper, clear LED taillights and EV decals plus an eco-friendly gray bio-fabric on the seating surfaces.