The Ferrari Enzo, named after the Ferrari's owner, is a high performance sports car which is well noted for its styling features. Initially, the Ferrari Enzo cost $670,000 and only 399 units were ever produced, but due to its high demand and limited supply, the price of the Ferari Enzo increased every time someone crashes and it is currently estimated at over $1,000,000.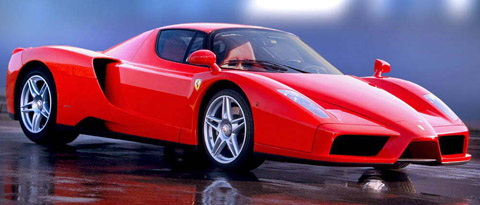 The body of the Ferarri Enzo is made of carbon fiber, as a result, the car is of less weight. The car features aerodynamic subsystems for better safety and performance. It is also equipped with active suspension for comfort riding in the sports mode.
The Ferrarri Enzo features a V12 engine with four valves per cylinder. The engine displacement is about 4700 cc and it delivers an output power of 660 bhp and 485 lb-ft torque. The Ferrari Enzo reaches the speed of 60 mph in 3.4 seconds and the top speed is about 217 mph. The Ferrari Enzo features 6-speed Semi-Automatic transmission and the gear shifts can be performed easily and smoothly even at higher loads.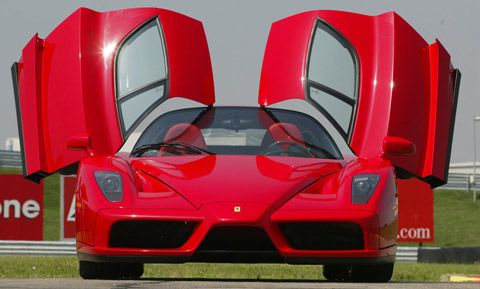 The wheels are wrapped with Bridgestone tires and it features carbon ceramic discs with six piston calipers. The car also features Anti Braking System and power steering.
The exteriors feature the stylish body structure, headlights and tail lights. The interiors are mostly designed of carbon fiber and it features the air conditioning system, navigation system and the optional launch control.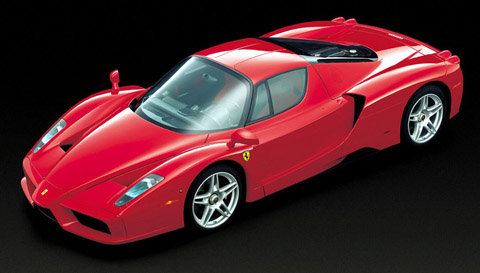 Specifications
Vehicle Type: - production car, two doors coupe
Configuration: - Mid Engine
Engine: - V12
Capacity: - 5988 cc
Torque: - 485 lb-ft
Horsepower: - 660 bhp
Transmission: - 6-speed Semi-Automatic
Wheelbase: - 104.3 inches
Length: - 185.1 inches
Width: - 80.1 inches
Height: - 45.2 inches
Weight: - 3020 lbs
0-60 mph: - 3.4 sec
Top speed: - 217